Apple and Corn Quinoa Salad
Kyla Health
By Maria Fernanda López
Reviewed by Rae Brandenburg, RDN
Apples and corn are in season in the fall, and they make a great combination in this hearty quinoa salad. All of the ingredients here are high in fiber which will keep you full and satisfied, while benefiting your gut health.
Want more recipes and guidance? Take charge of your health and longevity with Kyla's Longevity program! Our expert team, including a registered dietitian, provides comprehensive support on your journey to living a long, healthy life. Discover your personalized nutrition and wellness plan tailor-made for you today!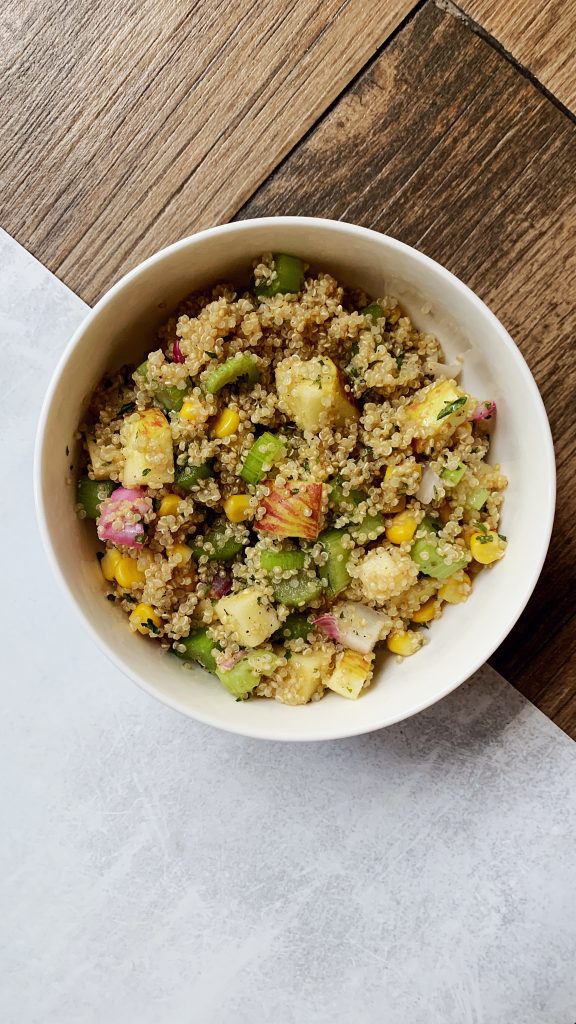 Ingredients
Serves 2-4
2 cups of cooked quinoa
1 chopped apple
1 cup of chopped celery
¼ cup of chopped roasted red onion
1 tbsp of apple cider vinegar
2-3 packets of stevia
1 lime (squeezed)
1 tbsp of dried parsley
⅛ tsp of black pepper
Instructions
Cook the quinoa according to package directions.
Meanwhile, wash and chop the vegetables and apple.
Mix all the ingredients in a salad bowl.
Serve and enjoy!
Nutrition

Shopping List
1 package of quinoa
1 apple
1 head of celery
1 red onion
1 bottle of apple cider vinegar
1 box of stevia packets
1 lime
Dried parsley
Black pepper